The Itinerary at a Glance
Hop on the Great River Road in southwestern Wisconsin and then head north to the shores of Lake Superior.
4 Unique Experience on This Trip
[list line="no" style="style1″]
Villa Louis
Shrine of Our Lady of Guadalupe
Chippewa Valley Museum
Amnicon Falls State Park
[/list]
Duration: 4 Days
Available: Year-round
This Itinerary is Ideal For: All
Itinerary Details
---
Day 1
Your tour follows the internationally recognized migration of waterfowl as you make your way to Prairie du Chien, which offers river cruises, historic sites and events, and unique shopping and dining experiences. Tour a meticulously restored Victorian country estate at Villa Louis,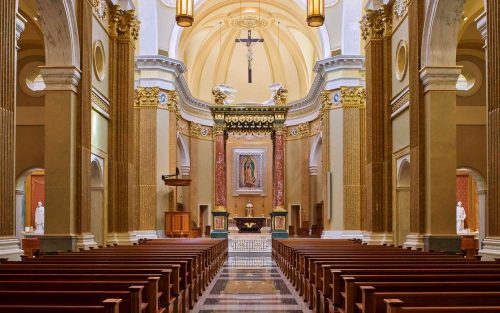 located on the banks of the Mississippi River. Drive along the Great River Road, designated as a National Scenic Byway, as you make your way to La Crosse. Bald eagle sightings are common as you wind your way north with breathtaking views of the river valley and bluffs beyond. Discover the magnificent Shrine Church, Candle Chapel and paved trails through statues and gardens at the Shrine of Our Lady of Guadalupe, open year-round with a cafe and gift shop. La Crosse and the region offer stunning landscapes with abundant things to do. Take a stroll down memory lane and immerse yourself in the rich history of the automobile at the Dahl Auto Museum. The city is alive with shops, restaurants, heritage sites, and churches and museums.
Day 2
After you have fully explored the La Crosse Region, head north and west to Tomah to tour the cranberry bogs, experience Amish country and shop in locally owned boutiques. Wisconsin's four seasons provide ever-changing scenic delights for your next stop in Cadott at Cabin Ridge for lunch and a delightful ride through the woods on a horse-drawn carriage. Enjoy serene wooded trails lined with delicate spring and summer flowers, glorious autumn colors or sparkling, snow-laden trees. Head east to Eau Claire, where the Eau Claire and Chippewa rivers meet. A vibrant college town, Eau Claire has experienced a renaissance in historic and cultural areas and interesting restaurants. Visit Carson Park, the historic baseball stadium where Hank Aaron played. Learn about the early settlers and logging industry at the Chippewa Valley Museum and Paul Bunyan Logging Camp Museum.
Day 3
As you drive north, your first stop is at the Pioneer Village Museum, nestled in the pines in Cameron. You will find the village offers both a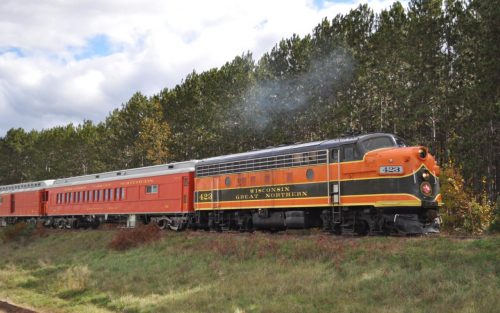 delight to the eye and a true educational experience with over 40 buildings to explore, including a shop with antique toys. On your way to
Washburn County make a stop at the Namekagon River Visitor Center. Enjoy an excursion on the Great Northern Train Ride, family-owned and -operated for the last 20 years in Spooner. Next stop is the Wisconsin Department of Natural Resources' Spooner Fish Hatchery – the largest of its kind in the state. Browse the Visitors Center with interactive learning stations. Take the Black River Scenic Byway to enjoy waterfalls as rivers race northward toward Lake Superior.
Day 4
No tour to Wisconsin's Northwoods would be complete without visiting Superior & Douglas County. The beauty, power and vastness of Lake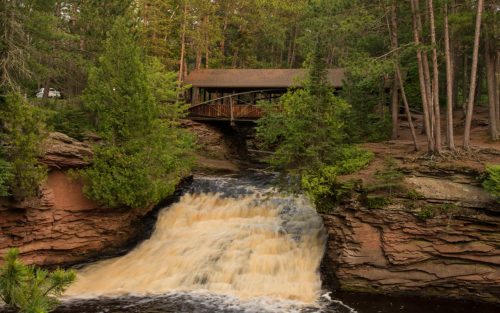 Superior have inspired songwriters, poets, artists, writers and photographers. One of the most highly photographed landmarks is the Superior Entry Lighthouse. Tour a historic mansion, firehouse & police museum and historic whaleback ship. Take time to visit Amnicon Falls State Park, voted Wisconsin's "State Park Treasure," and Pattison State Park, which features Wisconsin's highest waterfalls. Take a scenic drive through a part of the Chequamegon National Forest to Hurley, located on the border of Wisconsin and Michigan's Upper Peninsula. Known as a wild outpost back in the days of the region's iron mining in the 1800s, it is visited today for the glorious waterfalls on the Montreal River. The city's 19th century courthouse, listed on the National Register of Historic Places, is a museum devoted to the area's rich mining, logging and farming heritage.