Wisconsin, a state surrounded by two great lakes and a mighty river and 15,000 lakes in between.  Touring around the state you'll find world-class museums, amazing architecture, beautiful scenery from rolling rural vistas to urban surprises.  Entertainment is everywhere from Broadway to regional theatre, indoors and out.  Farm to table?  we got that!  Breweries, we've got plenty including some of the oldest and best.  Craft Distilleries and Wineries growing and plentiful in the state.  Looking for gaming, Wisconsin has some of the best Native American casinos in the nation.  But also take some time to explore the Native American Culture the state has to offer from a buffalo overlook to the logging industry and more.  Exploring the waterways of the state are easy with various cruises on pontoons,  sightseeing boats, paddlewheelers and the original WWII amphibious "DUCK" rides.
 We'll guarantee a great tour for your guests filled with unique and FUN experiences!
We'll see you on the bus!
Besides the abundance of fantastic destinations, attractions and more around the state.  

The fall colors of Wisconsin adds a special flair to any tour.  

Check out the Fall Color Report produced by Travel Wisconsin.

Just Announced!  Registration is open for the
2016 Circle Wisconsin Midwest Marketplace
April 17 – 19, 2016
Lake Lawn Resort, Delavan, WI
Tour Operators and Midwest Region Tour Suppliers click here to request information on the 2016 Circle Wisconsin Midwest Marketplace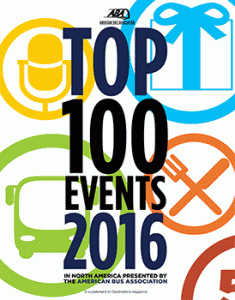 Congratulations to the Baraboo Area Chamber of Commerce and the Tomah Convention & Visitors Bureau, each area has been recognized by the
American Bus Association as having a Top 100 Event for 2016
Baraboo's Big Top Parade & Circus Celebration
and the Warren's Cranberry Festival